Monarc stair treads are typically designed as a plank, tapper rised or square riser profile.
Tread running, riser heights and widths are determined by the project specific requirements.
Monarc treads are Diamond Honed to specified faces and have been tested independently by OPUS Consulting to comply with slip resistant coefficient of New Zealand Standards.
Downloads: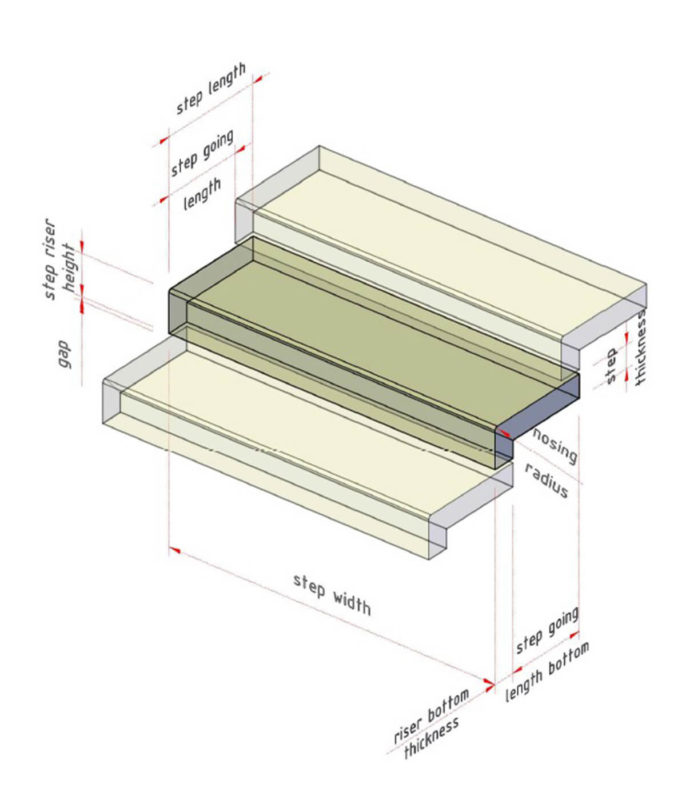 Square Riser
| | |
| --- | --- |
| Reference | Dimension |
| Step Width: | 900 to 1580 mm |
| Riser Gap: | 50 to 70 mm |
| Riser Taper Depth | 20 mm |
| Step Length: | 285 to 380 mm |
| Step Going Length : | 285 to 300 mm |
| Plank Thickness: | 80 to 100mm |
| Nosing Radius: | 10mm |
| Overlap | 25mm |
| Concrete Mix: | Standard | 40mpa |
| Oxide: | Optional: Peter Fell Oxide Colours |
| Surface finish: | Optional: F5 or Diamond Honed |
| Total No. of N_Tread-02 units: | 10 units (Minimum) |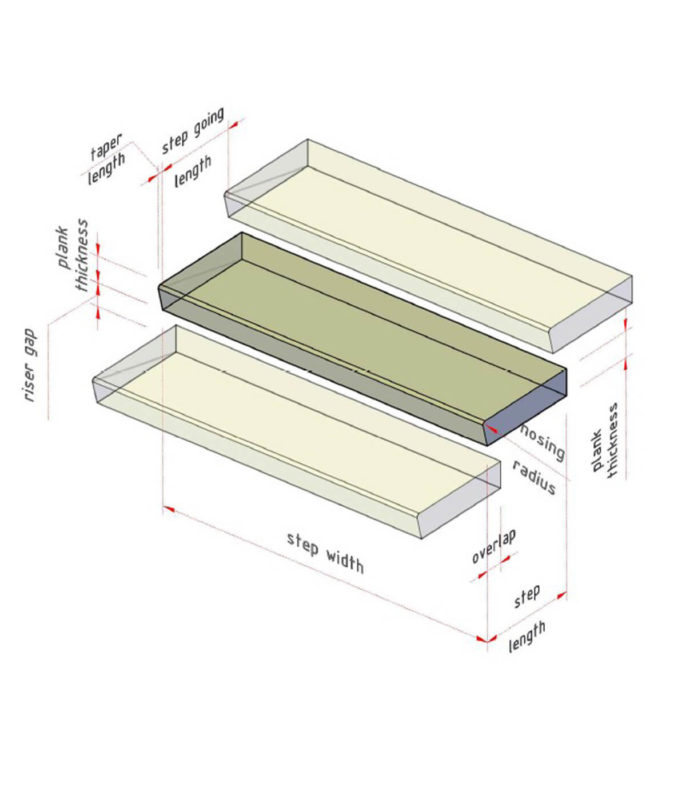 Plank
| | |
| --- | --- |
| Reference | Dimension |
| Step Width: | 900 to 1580 mm |
| Step Riser Height: | 150 to 180mm |
| Riser Taper Depth: | 20 mm |
| Step Length: | 365 to 400mm |
| Step Going Length: | 285 to 300mm |
| Step Going Length Bottom: | 365 to 400mm |
| Step Thickness: | 80 to 100mm |
| Riser Bottom Thickness: | 80 to 100mm |
| Nosing Radius: | 0 to 10mm |
| Gap: | 10 to 20mm |
| Concrete Mix: | Standard | 40mpa |
| Oxide: | Optional: Peter Fell Oxide Colours |
| Surface finish: | Optional: F5 or Diamond Honed |
| Total No. of N_Treads-01: | 10 units (Minimum) |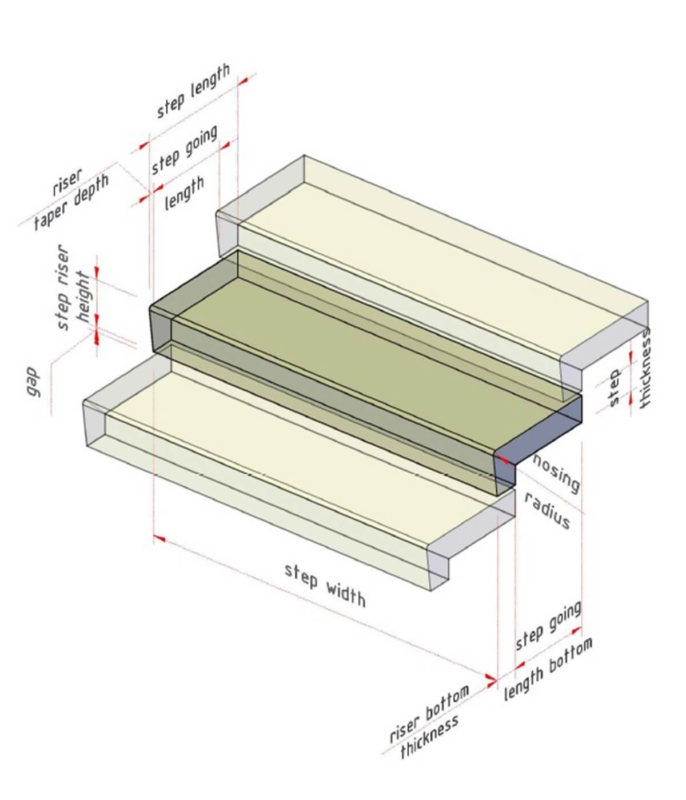 Tappered Riser
| | |
| --- | --- |
| Reference | Dimension |
| Step Width: | 900 to 1580 mm |
| Step Riser Height: | 150 to 180mm |
| Riser Taper Depth: | 20 mm |
| Step Length: | 365 to 400mm |
| Step Going Length: | 285 to 300mm |
| Step Going Length Bottom: | 365 to 400mm |
| Step Thickness: | 80 to 100mm |
| Riser Bottom Thickness: | 80 to 100mm |
| Nosing Radius: | 0 to 10mm |
| Gap: | 10 to 20mm |
| Concrete Mix: | Standard | 40mpa |
| Oxide: | Optional: Peter Fell Oxide Colours |
| Surface finish: | Optional: F5 or Diamond Honed |
| Total No. of N_Treads-01: | 10 units (Minimum) |